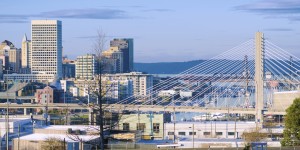 Last month we discussed the many pros of living in Olympia. Now we're going to highlight just a few of the best reasons for living in Tacoma. Both of these cities have much more to offer than a single article can cover, so the best way to find out if one of these areas is right for you is to come to visit Olympic Rental & Landlord Services. Let us show you around. We are happy to tell you all about Tacoma while visiting the options for Tacoma houses for rent. Without further introduction, here are just a few of the top benefits to living in Tacoma:
Outdoors Recreation
Tacoma has miles of waterfront! There is everything from marinas to restaurants with a waterfront view. You will find plenty of rental properties with a waterfront view as well as parks, trails, and shopping—all with a view! Speaking of parks, Tacoma has that covered in spades as well. From parks with hiking and biking trails to those set up for picnics, you will find it all here. There are golf courses, agritourism, and farmers' markets. Whatever you like to do outdoors, you will find it available in Tacoma.
Great Place for Kids
Tacoma has the wonderful "pay as you will admissions" Children's Museum of Tacoma. There are street fairs galore going on from spring through the end of autumn that offer something for everyone. We have many arts programs for kids available across the city. Take the kids to the Point Defiance Zoo for the day or the unique Blue Mouse Theatre.
With many tight-knit neighborhoods, this city has a family feel. People stop to say hello. With so many kid-friendly places and neighbors who gather to get to know one another, Tacoma is a great place to raise kids.
Diversity
Tacoma is home to many military people stationed at Joint Base Lewis-McChord. You will also find a wide range of cultural and socioeconomic influences in the city. Tacoma allows you to do more than just take in ethnic foods, you can get to know people from all walks of life. Diversity is celebrated in the many festivals all around Tacoma as well as at the University of Washington Tacoma.
In addition to a hometown feel and a diverse population, Tacoma also appreciates local businesses. You will still find a plethora of mom-and-pop businesses alive and thriving in Tacoma.
When you are ready to make the move here, contact us. We will help you find the right home for rent in Tacoma.