Houses for Rent in Olympia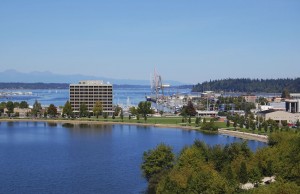 With so many options for places to live and so many houses for rent, picking a city can be tricky. What does Olympia have to offer that gives it an edge over other cities? Quite a lot, actually. Olympia has some benefits to offer just by being the state capital, but it doesn't stop there. There are jobs, events, shops, restaurants, and unique educational opportunities. Below are just a few of the highlights of living in Olympia.
Jobs
One of the benefits of being the capital is that there are many State jobs available in Olympia. These are known to be stable jobs with a strong benefits package. Olympia also generally has a lower percentage rate of unemployment than the overall Washington State percentage.
Culture & Unique Events
Olympia has some unique historical and artistic spots to visit. This includes the Hands on Children's Museum—where kids not only can touch what they see, they are actually encouraged to do so—and the Bigelow House Museum, which is the oldest residence in the city.
The Olympia Farmers Market offers both fine local produce but also arts and crafts from around the area. Often featuring entertainment and live music, this is on the list for many Olympia residents to visit nearly every weekend.
While there are many wonderful events, parades, arts walks, and gatherings, Olympia's Procession of the Species (http://procession.org) is a beloved favorite—and very unique—annual event. This parade of creative, hand-made costumes is meant to "embracing the languages of art, music, and dance to inspire learning, appreciation, and protection of the natural world." In the month prior to the event, several businesses around Olympia offer space after hours where anyone can come to learn different methods of designing and creating a costume. People dress as animals, trees, a representation of the ocean, and just about any other animal, mineral, vegetable, or natural element you can think of.
Thriving Downtown
Downtown Olympia is one of the major attractions in town. With seemingly endless options for dining, shopping, peeking in galleries, and walking around Olympia's Capital Lake, there is so much to do. The beautiful South Sound waters come right into downtown Olympia. It also has a large grassy park where people picnic, place volleyball, throw a frisbee, and lounge. It really is a place where nature and business come together for a stunning effect.
Educational Opportunities
The Evergreen State College is one of the most original educational systems in the country. Created in 1964 the liberal arts college sits on 1,010 acres of forested land. Started as an experimental non-traditional college the school offers learning communities that largely use conversational seminars as the main learning tool. As the only public university of its kind, The Evergreen State College hosts an annual institute on learning communities where other colleges and universities from around the country come to learn about this unique style of higher education.
When You Need a Home to Rent in Olympia
These wonderful reasons for living in Olympia are just the tip of the iceberg. If you are relocating to Olympia or moving from one area of it to another, Olympic Rental & Landlord Services can help you find the perfect home in Olympia! Contact us today to get started. We have a great selection of rental homes and are committed to helping you find the right one for you!