Attract the Right Renters for Your Property
You know the old rule when it comes to real estate, that the three most important things are location, location, and location. What they don't tell you is that the fourth most important item in context. When you open your property up to renters, you need to know the needs of people who live in the area so you can make your house or apartment a more attractive option for prospective tenants. Keep reading to find out what you need to do to set yourself up for success with renting and property management in Tacoma.
A Haven for Seattle Commuters
Tacoma, WA, is a large town that's about an hour's drive from downtown Seattle. A lot of residents use it as a bedroom community and commute to work. The sort of person who doesn't mind a 60-minute commute to work values saving money, but still wants to be close to amenities. When you're preparing to list your local property, make sure to survey the neighborhood and surrounding areas for convenience features. People who weather traffic on I-5 at least 10 times a week also need time to relax and blow off steam.
Here are some questions to ask about your property:
How close is it to a Pierce Transit line, especially to one that runs from Tacoma to Seattle?
Which city parks are within a 10-minute walk of the property?
Are there any movie theaters, famous restaurants, gyms, or other notable attractions within the area?
Make sure to rank these amenities highly in your listing in order to attract tenants with the means and desire to settle in your Tacoma neighborhood.
The Right Type of Tenant For Your Property
After considering how to best attract Seattle commuters, turn your attention to your property itself. Is it a building full of studio apartments or is it a large, multi-bedroom house or something else? What you have to offer as far as space and number of bedrooms has a drastic effect on who wants your rooms.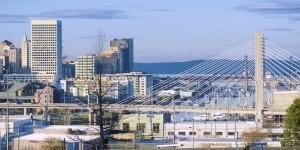 Studio apartments are large enough for a single person, which makes them appealing to young, single professionals just starting out. One way to cater to this type of renter is to offer free Wi-Fi. If you've got multiple rooms available, you can provide a group router that covers between three and five units at the same cost as a single home. Since only one person is in each dwelling, it's easy for multiple units to share. You end up offering your tenants something that would normally cost them much more, while only paying a fraction of the price for the service since it covers more than one apartment at once.
Mid-size homes, with two or three bedrooms, are most likely to draw in families with children. In your listing for such a property, make sure to research and describe the local school district, as well as any popular private schools that are within the target income range of your neighborhood. One very simple but highly attractive perk to offer is lawn maintenance. Having your property management team send over a landscape worker once a week to mow the lawn saves tenants lots of time, and it gives you the peace of mind that your property is complying with local ordinances regarding upkeep and attractiveness.
Tacoma is just 20 minutes away from Joint Base Lewis McChord and sees it share of military families who live off-base. These families can have just a single partner present for months at a time when one of the parents is deployed overseas. In these cases, it's doubly important to find and list any convenience features that make life easier for families. Close proximity to schools is always a plus, as well as medical offices, family-friendly attractions, and services geared towards active duty military personnel or veterans.
Short-Term Rentals in Sea-Tac
Another type of renter in Tacoma is the tourist. Don't laugh, it's true. People come to visit Seattle but might find that they don't enjoy staying in the heart of the city and would like something just a bit quieter. Their visit might be more long-term, perhaps a few weeks at a time, and they prefer the feel of a rental house to the more cramped quarters of a hotel. If you open your property up to days- or weeks-long terms, make sure to contract a dependable cleaning service that you can depend on to get everything spic and span in the short window between guests leaving and the new lodgers arriving.
Vacationers expect a higher level of service and luxury than permanent residents. At a minimum, you should provide:
Complete furnishings, including a dining area plus beds, couches, and chairs that are as comfortable as home
High-speed internet access and a premium cable package
Fully stocked kitchen appliances for guests to cook meals
A complimentary welcome package with a note from you, contact information, and a little snack or listing of local attractions
Leaving it in the Hands of a Pro
Life is full of unexpected surprises, and people have the need to feel especially secure in their own homes. You can go a long way towards putting your potential renters at ease by contracting a management service. This lets tenants know that you're serious about maintenance and fixing problems as soon as they appear. Property managers are educated about property law and facility upkeep. The right team is available 24/7 to cover emergencies, as well as for routine visits.
Hiring a property manager is an essential step in getting the right renters for your dwelling. They're on call to show the unit to prospective renters, even when you're out of town or attending to other business. A properly trained and highly experienced management team is able to answer the most common questions that renters have and goes a long way towards building renter confidence in your listing. They keep you apprised of any developments or issues so you can be an informed, profitable and effective landlord.